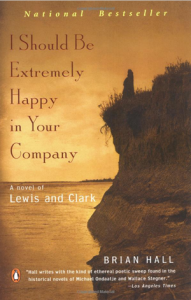 Selected as one of the best novels of the year by The Boston Globe, Salon Magazine, The Los Angeles Times, and The Christian Science Monitor.
Meriwether Lewis and William Clark's expedition to the Pacific Ocean and back in the early nineteenth century is the most famous journey in American history.  But its very fame has obscured its oddness.  Its public image of discovery and triumphant return has veiled its private stories of longing and loss, of self-discovery and mutual ignorance, of good luck and mischance and fortunate misunderstanding.
Having been interested in Lewis and Clark for years, novelist and journalist Brian Hall became convinced that these half-hidden personal stories could best be told in the intimate, revelatory voice of fiction.  Rather than concentrate exclusively on the expedition, Hall has chosen to focus on emblematic moments through the whole range of the lives of its participants.  Ever present as a backdrop is the violent collision of white and Native American cultures, and the broader tragedy of the inability of any human being to truly understand what lies in the heart of another.
Hall has written the novel in four competing voices.  The primary one is that of Lewis, the troubled and mercurial figure who found that it was impossible to enter paradise without having it crumble around him.   Hall brings this enigmatic character to life as no historian ever has.  A second voice is that of the Shoshone girl-captive Sacagawea, interpreter on the expedition, whose short life of disruption and displacement mirrored the times in which she lived.  Other perpectives are provided by William Clark and by Toussaint Charbonneau, the French fur trader who took Sacagawea as his wife.
Brian Hall has used the novelist's art to create a book that fills in the gaps and provides a new perspective on this great American story.
Reviews
"Artful layering and flawless pacing transform a monolithic legend into a quixotic, heartbreaking story, one you enter rather than salute."  —The Boston Globe
"Fills in the blank pages of the Lewis and Clark journals, offering marvelous character studies . . . A seamless narrative flow earmarks this hybrid book as approaching the status of classic American literature."  —The Los Angeles Times
"The greatest pleasure of this novel stems from the way Hall portrays his principals, distinguishing not just their voices, but their startlingly different visions of a world in rapid flux . . . Sacagawea's surreal vision of a world blended with native myth and tribal history provides the novel's most haunting moments."  —The Christian Science Monitor
"Hall's magnum opus of a historical novel makes hugely enterprising use of firsthand accounts of the pioneering journey. . . Fascinating, multifaceted."  —The New York Times.
Buy This Book
Purchase at BarnesandNoble.com>