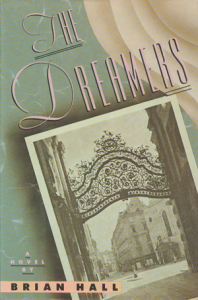 Eric Wiederholt, a young American graduate student, has come to Vienna on a Harvard fellowship to study the Anschluss (Austria's catastrophic union with Nazi Germany in 1938).  Eric knows that much is expected of him, both by Harvard and by his family.
Yet something is not quite right about the letters Eric is writing home.  What is he trying to conceal?  Might it involve his landlady, whom he describes to his mother as thirty-eight and fat?
In fact, Jutta Bechtler is neither; she is Eric's young and attractive lover: a tempestuous, enigmatic, and troubled woman, an outcast from her own conservative Austrian family, with a distant and unreachable five-year-old mulatto son, Timo.
In The Dreamers Brian Hall weaves the story of Eric and Jutta's life together that winter in Vienna with spellbinding skill.  It is the story of a passionate, tormented relationship between two very different people who cannot part; of Eric's efforts to win the trust and affection of the aloof and lonely Timo; of his friendship with the hard-drinking, womanizing American, Josh Kohler, a Jewish musician working in Vienna; and of Vienna itself, whose history and modern presence become a vital part of the unfolding events.
Reviews
"The Dreamers is riveting—an open-eyed look at bigotry of every kind, so honest it hurts, but also sweetly humane and full of hope.  It's the kind of book that changes lives." –Barbara Kingsolver
"A brilliant and unsettling first novel that reverberates after its conclusion . . . Hall is a remarkable young writer who has the skill to explore significant issues without turning them into propaganda." –The Los Angeles Times
Buy This Book